Back in 1995, Tor Books published Conan and the Emerald Lotus by author John C. Hocking. It's a book with an interesting story.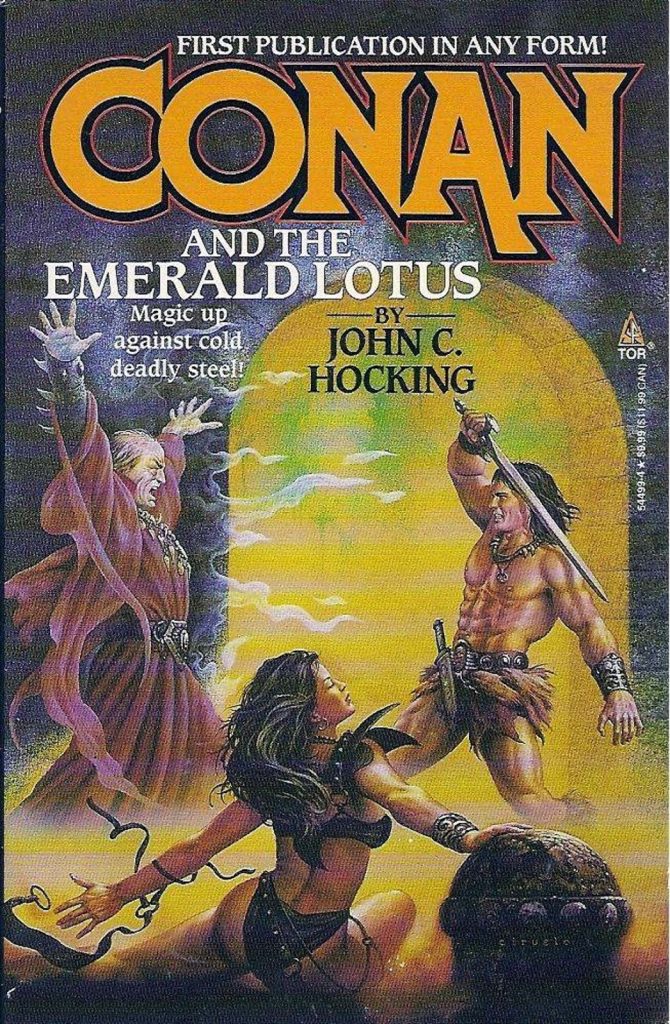 Hocking felt that the Conan books published at the time missed most of pastiches that made a Conan book feel lik Conan, so he wrote his own. Three years later, the manuscript for Conan and the Emerald Lotus was done. He had this to say in an interview with (the now defunct – archive.org link here) Sword & Sorcery website:
I was proud enough of CONAN & THE EMERALD LOTUS that I didn't want to just drop it into a drawer and write it off as therapy. So I sent out a handful of letters, and L. Sprague de Camp responded. He wrote that they saw many unsolicited Conan manuscripts and that virtually none of them were publishable, but that if I sent him my book he'd look it over. He liked it a lot and LOTUS was published in November, 1995.
The book was well received, and is seen as one of the best Conan books of its time. Hocking immediately started on a new Conan novel, called Conan and the Living Plague, but when it was finished two years later, the rights to Conan stopped publication.
That's all history. Today, we can look forward to a re-issue of Conan and the Emerald Lotus from Perilous Worlds. That's not all though, the previously unpublished Conan and the Living Plague will also see the light of day. Both books are due this year, and you can sign up for news abou, and (soon) pre-order them, from this page.
Expect more news about the upcoming Conan books from John C. Hocking in the near future. For now, know that we can look forward to revisit Conan and the Emerald Lotus, as well as the – for us – brand new adventure in Conan and the Living Plague.