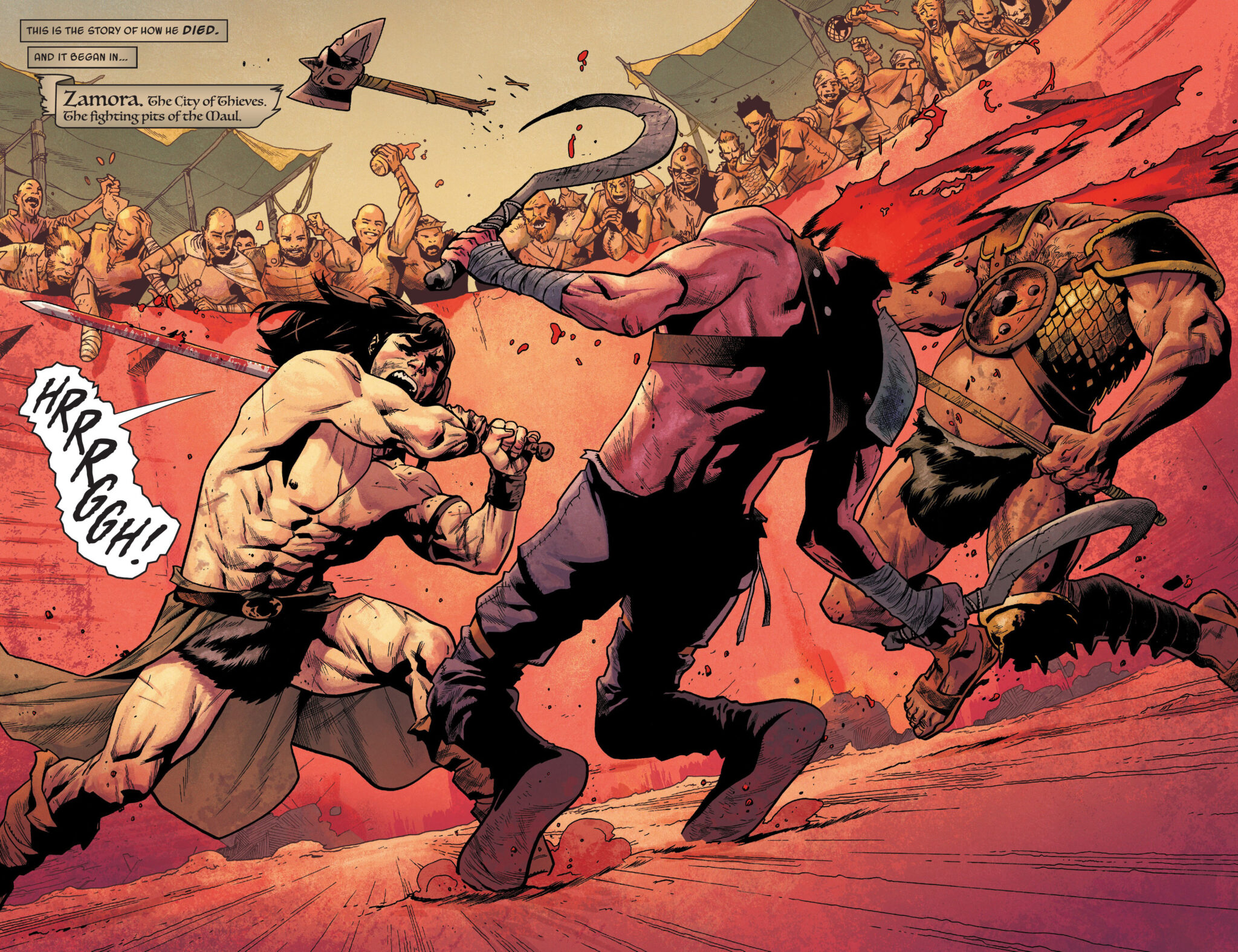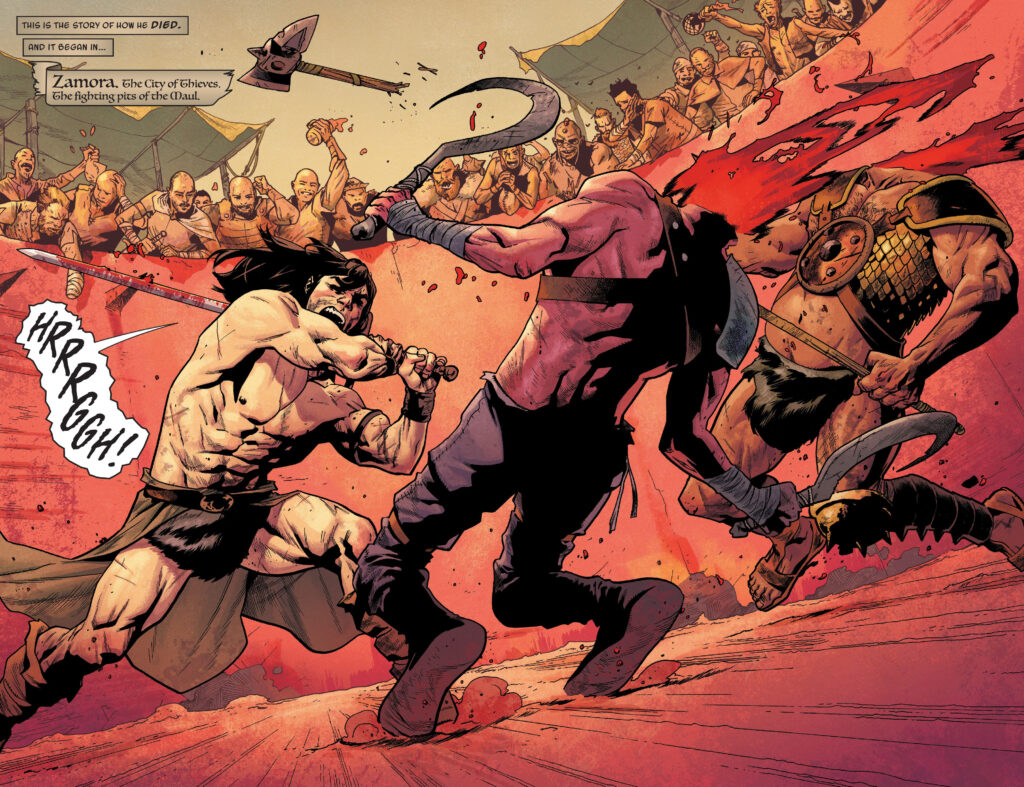 Conan is back with Marvel Comics, and the barbarian is making a splash. The main series, because there are indeed several in Conan's universe running at Marvel by now, is aptly called Conan the Barbarian. Reviews were glowing, thanks to a great first issue by writer Jason Aaron, artist Mahmud Asrar, and colorer Matthew Wilson, as well as the creative team at Marvel. We'll get back to these guys in a later feature, as well as talk about the covers, but let's bask in the glory of Conan the Barbarian #1 for now, because the reviews are multiple, and they're bloody good.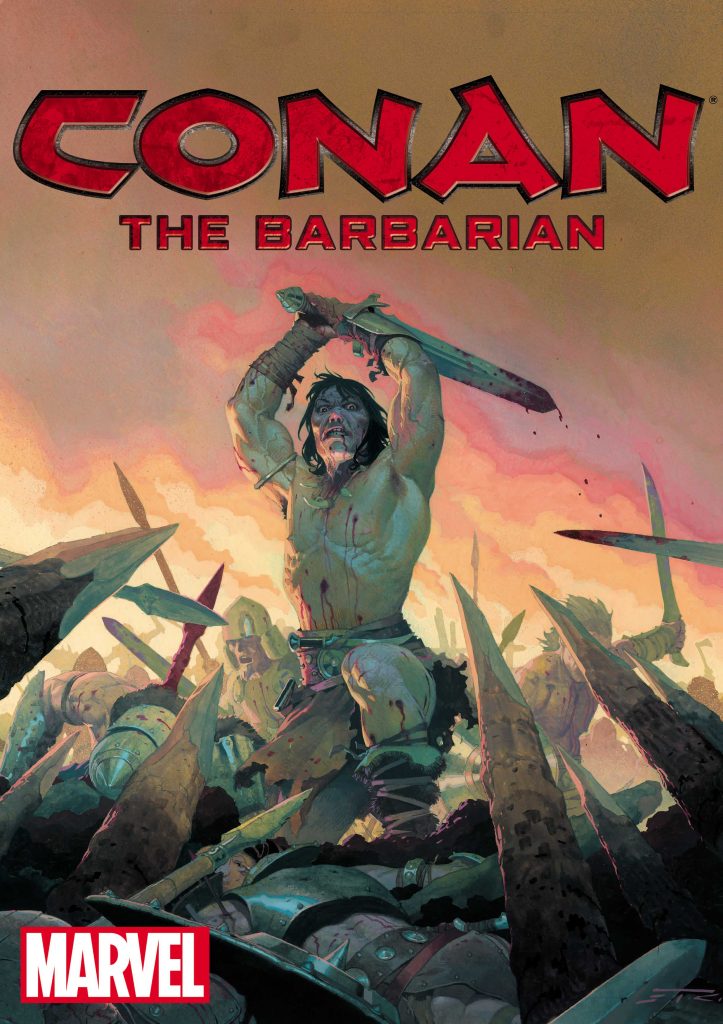 IGN rated Conan the Barbarian #1 a respectable 8.8 out of 10, with these fine words:
Whatever fears about Conan finding his footing at Marvel are most pout to rest with this first issue. The strong creative team alone justifies a purchase for those even mildly interested in the character. But more than that, Conan the Barbarian #1 shows a real storytelling ambition. The goal isn't just to do justice to the source material, but to take a sweeping look at Conan's life and push him and his readers outside their comfort zone.
Comicbook.com has a lot of nice words about both the inaugural issue, wrapping up their review with this recommendation:
If you're craving quality fantasy comics, don't miss Conan the Barbarian.
Word of the Nerd's reviewer isn't a Conan fan per se, but he's enjoying the first issue of Conan the Barbarian as well, rating it 8.8 out of 10.
[Mahmud] Asrar also brings a sense of energy and movement to the pages of Conan the Barbarian #1. The action is intense and bloody, and he also does superbly well on his sequential storytelling, with his panel structure and layout. Having the fantastic color artist Matthew Wilson on board also does not hurt things, either.
CBR.com joins in with a glowing review of the first issue, and manages to liken Conan to a car… Just read the review to find out for yourself. There's no question what they think though:
Conan the Barbarian #1 is big, bold and bloody, just as Crom intended. However, there is also a level of intelligence on display that raise this title above some of the character's superficial trappings. This comic could have skated by on charm alone, but instead, it delivers a great new chapter for Conan.
Want more? Comicbookroundup.com has plenty of links, if you're on the fence wether to give this series a go. (Yes! You should!)
Check out Conan the Barbarian #1 at Marvel.com, or try to find it where you buy comic books. This is one for the collectors, for sure.